3.5″ tall, rack-mountable
outputs up to 24 channels of DMX
controls dimmers, relay packs, standalone lights, even fog machines
modular switch panels provide a variety of options for channel control
reconfigurable show-to-show
all the benefits of a custom cue light controller without the cost of custom faceplates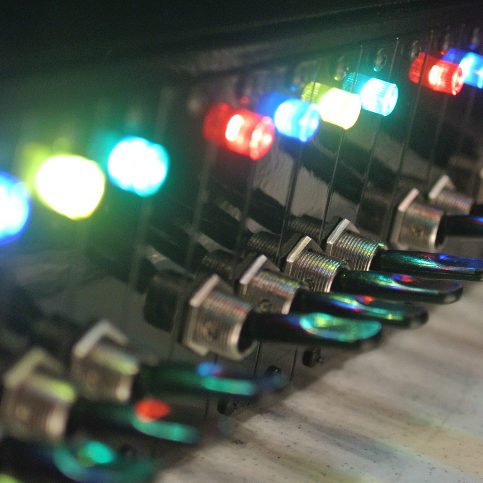 Size: 2RU (19"x3.5") x 8"D
Weight: 11 lbs.
Switch plate options:
One toggle switch with colored LED indicator
Two toggle switches with colored LEDs
Slide fader
Dial fader

Blank plate
4-space blank plate
Front panel includes space for 22 switch plates (maximum 24 switches).
Rear panel includes: XLR 5-pin thru and out DMX, IEC power connector, main power switch, and dip switches to set start address and mode.
In 2013, a Broadway electrician came to us in search of a better cue light controller. Working closely with him, we developed the Prospero to the specifications of Broadway electricians and stage managers. Since it went into production in 2014, it has been used on more than 75 Broadway productions and tours, as well as numerous installations in regional theatres and road houses. (You can find a mostly-complete list of Prospero installations here.)
Because the Prospero was designed in collaboration with both stage managers and electricians, it has features that make it a great choice for both of them.

Sturdy toggle switches with long levers for easy use and physical feedback of actuation
Reconfigurable face panels for custom colors and groupings of switches,
allowing the panel to be designed for maximum usability
Ample 1″ label space between switch and LED

DMX output – no proprietary protocols
Use any DMX-controlled system for your cue lights – no need to buy specialized equipment
Slide fader, dial fader and 2-toggle options available
Rack-mountable
Case Studies & Testimonials